GOOD SPORTS
A series on the athletes in your neighbourhood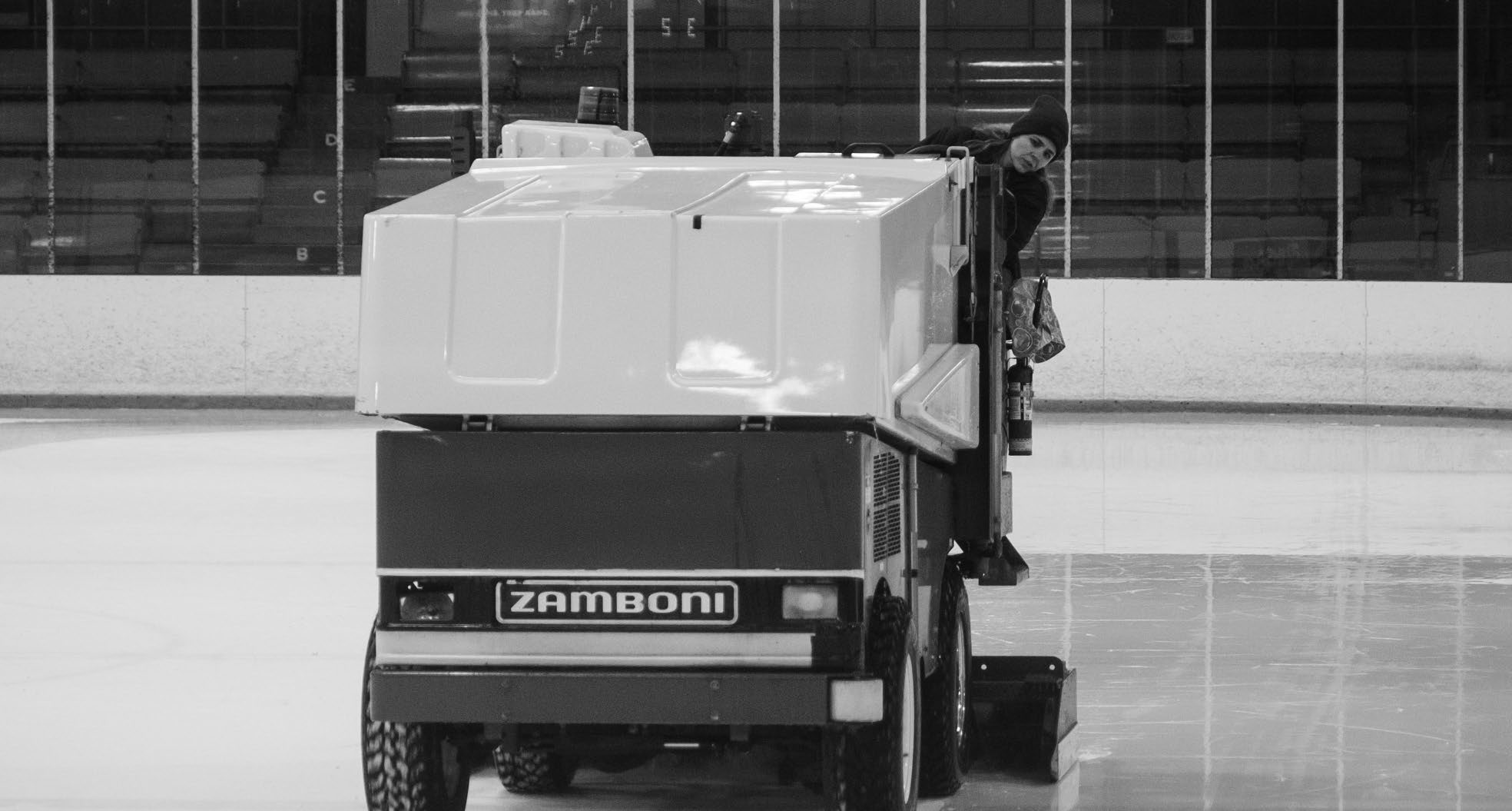 STORY BY Victoria Matiash

PHOTOS BY Eric Patrick Hong
Amanda Fenech, Zamboni operator at George Bell Arena
Amanda Fenech knows the sight of a woman driving a Zamboni still draws attention. The 33-year-old single mother of two has fielded her fair share of questioning looks and outspoken concerns. But, as one of four full-time maintenance workers at George Bell Arena, she's learned to take the skepticism in stride.
Fenech grew up at the 57-year-old facility, tucked into Runnymede Park, just south of St. Clair. A former practice facility for visiting NHLers, the white-sided arena is where Fenech first learned to figure skate when she was three and a half. It's where she watched her sister and brother first play hockey. Years on, she took a turn helping with the house league program, which led to a paid gig running the snack bar. Working her way up into the Zamboni's seat served as what passes for mounting the corporate ladder at a neighbourhood ice rink. It wasn't an easy climb, though. Turns out, driving a Zamboni is tough. Especially when you're not all that tall.
"I'm not afraid to say I use a booster seat," the five-foot-one driver tells me after one Monday afternoon flood. "It was extremely hard at first. I was terrified of that machine. It took quite a bit of time. But I'm 100 per cent confident now," says Fenech, who's been piloting the machine for two years.
In addition to helming the Zamboni, her duties include cleaning dressing rooms, performing general maintenance tasks and offering polite, if firm, assurances to some new visitors that yes, as a matter of fact, she is in charge.
"I'll tell you ... this [points to ponytail] and this [sweeps a hand across her chest] have people question me a lot. I have to put my foot down. The regulars know who I am, and know not to challenge me, because I'm often the boss when I'm here."
But even though some people less familiar with the inner operations at George Bell will occasionally ask for the "guy" who drives the Zamboni – even after they've been assured that they're already talking to her – Fenech insists that taking care of her most important charge, a task she adores, matters most.
"When I come into work, the first thing I check is my ice. I talk to my ice," Fenech says. "People pay big bucks for ice. You have to make it beautiful. People think this is crazy, but I take a lot of pride in my job. Not only my ice, but the rest of the rink, too."
There are many who remain firmly fixed on Fenech's bench: her supervisor, arena manager Larry Woodley, and three full-time co-workers ("I owe everything I know to them – everything"); the habitual late-night players who loiter in the parking lot – from a respectful distance – to make sure she gets to her car safely. And, most significantly, the two young kids at home, who are all in with what Mom does for a living.
"'Mummy drives a big machine. A Zamboni! Mummy loves her Zamboni!' The kids talk about it all the time," she laughs.
Instead of a traditional house, her kids built a gingerbread Zamboni this past Christmas, complete with a female figurine – a plastic statuette from the movie Frozen worked well to scale – standing upright, arms raised, in the driver's seat.
This story series was paid for by Lassonde, to highlight the accomplishments of local athletes. The company had no input on the content of the article.

///////////////////////////////////////////////////////
Like what you read?
Your patronage will pay more writers, illustrators and photographers to produce important work about Toronto's West End. Please consider subscribing here, gifting a subscription to a friend or making a donation – and spreading the word.